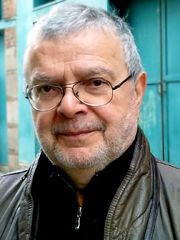 Bernard Deyriès
is a French designer, writer, and director.
In the 60s, Bernard was a student at the Ecole Brassart of Tours . In few years, he became the head teacher and director. His first professional work was published in fanzines Shock and Publi-Shock of Micberth. He joined the Young French poetic Force service in order to create movies with Jean-Paul Pineau. He had a brief stint with the director Patrice Leconte.
Bernard began his professional career in 1974 with Jean Chalopin in DIC by making commercials and corporate films (such as Archibald the Magician) and Jean Chalopin turned to the production of animation series. In 1979, Bernard follows Jean to Japan and creates Ulysses 31 with TMS (Tokyo Movie Shinsha). This was the first Franco-Japanese co-production.
Chalopin with Bernard, co-directed the series Ulysses 31, Mysterious Cities of Gold , and Jayce and the Wheeled Warriors, M.A.S.K., Inspector Gadget, The Littles and Heathcliff & the Catillac Cats.
In 1990, Bernard with Guy Delcourt and Christian Choquet founded an animation studio, Story.